What to do in October
Gardening in October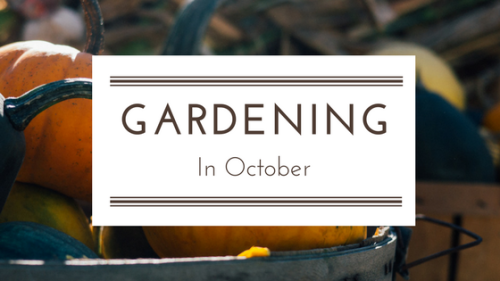 Even with the most generous of Indian summers, in October autumn is here for certain and even if the days are warm, the nights are often quite cold and many areas of the country have had some sharp frosts by the end of this month. October is largely a month to be tidying up, cutting back perennials and of course raking leaves off the lawn and making sure they don't choke flower beds and ponds. This task can sometimes seem endless, but it will prevent moulds and mildews as well as bald spots in the grass. It is really easy to make leaf mould as well. If you have room, you can make an enclosure of chicken wire or something similar but if not then a couple of bin liners with some holes in will do the job just as well. All you need do is collect the leaves and pack them not too tightly in your chosen container, keep them dampish and then forget about them for about two years! The result is a fabulously smelling dry crumble potting compost that almost all seedlings and pot plants love – and it is totally free, which is a great bonus.
Perennials
While you are tidying up in the herbaceous border, keep an eye out for crowns of perennials which have got a bit big. Some may actually be rising above the level of the rest of the plant as extra growth struggles for space. These need dividing and you can fill in bare patches this way as you work. The great thing about doing this job now is that you can remember what you have just cut down, how big it was and how vigorous so you can place it in the right spot from the start. There is nothing worse than transplanting a clump of perennial and then finding a rather tall plant in totally the wrong place next summer.
Pruning
Pruning and cutting back might sound like the only job in the garden in October, but in fact that is far from the case. Harvesting apples and pears is one of the nicest jobs in the garden at this time of year. The soft fruit is really over in September but the pleasures of autumn fruit are just as satisfying and if you intend to store your apples and pears over the winter, this is a job you can do no matter what the weather is doing outside. You will need a dry and frost free space – some people use the spare bedroom and there is nothing like the mellow smell of apples in the depth of winter – and the apples and pears need to be dry and absolutely undamaged. They also mustn't touch each other. Other than that, they need nothing but a fairly steady coolish temperature and they will last for months.
Lawns
If the weather has been mild, you should be giving the lawn a last mow this month, but be absolutely scrupulous about collecting the grass clippings, as any left will turn horribly slimy after a frost and will leave a brown patch on the lawn. You can also trim hedges at this time as well with little chance of any more growth, so this is a job that you can do and forget until spring. This is the last chance to clean out the pond as well but be careful if you are reducing the oxygenating plants to leave them on the side for a day or so to let any wildlife hiding in there get back into the water.
Seeds
Although October seems a month for cleaning out, trimming, tidying and putting to bed generally, there is still a little colour around and you may still have some dahlias in the border. When the first frost has hit them though, it is time to lift the tubers and store them somewhere frost free to be replanted next year. For many gardeners, October is one of the most exciting times of the year, because this is when you can start planning for next year and so the seed catalogues come out with a vengeance. If the weather is still good enough, it is a good plan to walk around the garden and be absolutely ruthless with yourself as to whether a border or pot or any area of the garden has really worked over the last summer. Sometimes, it is simply time for a change.
Wildflower meadow
For example, if you have had a part of your garden which has been a lot of work for little return, there are excellent meadow mixtures on the market which have a variety of wildflowers mixed with grasses. These are just mown once or twice a year and just become better balanced as the years go by. They give guaranteed colour and movement in the garden and are a natural draw for butterflies, bees and other insects. As a low maintenance choice for a difficult area, these mixtures are hard to beat. They also make a good stop gap if you have plans for an area which you are unable to put into operation for a while as they give quick colour and also prevent ground being left as bare soil, which is a magnet for weed seeds and all the cats in the neighbourhood.
Bulbs
If you haven't finished planting all of your bulbs, October still leaves you plenty of time but if you are planning a revamp of an area, don't forget to keep that in mind while you are planting. Naturalised bulbs looks fabulous and getting the natural look is not hard to do. Just mix up the bulbs in a bag if you are using a variety and broadcast them over the area where you want them to flower. Then just plant each bulb exactly where it has fallen. If you are planting in an orchard or meadow area the bulbs will just multiply over the years anyway but will look natural from the start.
Vegetable gardening
In the vegetable garden there is relatively little to do in October as most crops have been harvested. There may still be some late runner beans and you will also still be harvesting carrots, potatoes and onions and of course planting spring greens. Most of the work will be digging and again October is very much a time for planning. Crop rotation is very important and if you only have a small vegetable plot this can be quite a logistical feat. It is essential though, especially if you have been having trouble with club root or any kind of weevil infestation. Looking through the seed catalogues for new strains of vegetables and fruits is great fun at this time of the year and making a change will not only be good for the soil but will make a pleasant change in the kitchen as well.
If your vegetable garden is too small for your needs and you are struggling to fit everything in, you might like to consider container vegetable growing for next year. Now is the time to plan where to place your containers or to build your raised beds. These not only are easy to look after but they actually solve the problem of soil that has seen too many crops of one kind in it as the soil used for growing in is freshly added to the frame to a depth of several inches. These beds are very handy for growing salads and other cut and come again crops and can placed near the house for ease of harvesting. You can find plans for how to build them online or you can buy kits from garden centres or online suppliers.
Sheds and greenhouses
It isn't just the plants in the garden that need tidying. If you have any sheds or greenhouses it is well worth it to give them the once over and do any running repairs on leaks or loose roofing felt to see them through the winter. Water butts also benefit from being emptied out and given a thorough clean at least once a year and this month is a good one to choose. They will then be clean and sweet for the collection of the winter rain. Spring is often a dry season and having some good clean water stored in butts makes getting the garden going after the winter that much easier. Fences, garden furniture and other wooden features need checking over and planks replacing if appropriate. Decking should have an extra specially careful check, especially if you have pots standing on it, to watch out for any rot which could make it dangerous to walk on. Solar powered lights should be taken inside unless they are in place specifically to light dangerous and dark spots; in this case they should be checked because the batteries have a limited life of around 2 years and so may need replacing.
And finally ....
October in the garden can sometimes feel very much like the end of everything as harvesting is completed and plants are cut back, dug up and otherwise tidied away. This is true to a point, but it is also a month for looking ahead, for planning what the garden will look like next year and for laying in supplies ready for the planting season when it comes round again. There is something very satisfying in putting the garden to rights so that it will be ready to repay you with colour, perfume and food all over again next year. Every month of the year brings its own challenges and rewards and October is certainly no different- so enjoy yourself!